Lundi 22 mai, vive les RTT ! Il faisait très beau et bon et j'ai donc emporté mon pique-nique dans les Vosges, aux alentours de Gérardmer (Prononcez Gérard Mé !).
I took monday the may 22 of. It was very sunny and warm so I brought my picnic to the Vosges mountains, around Gerardmer.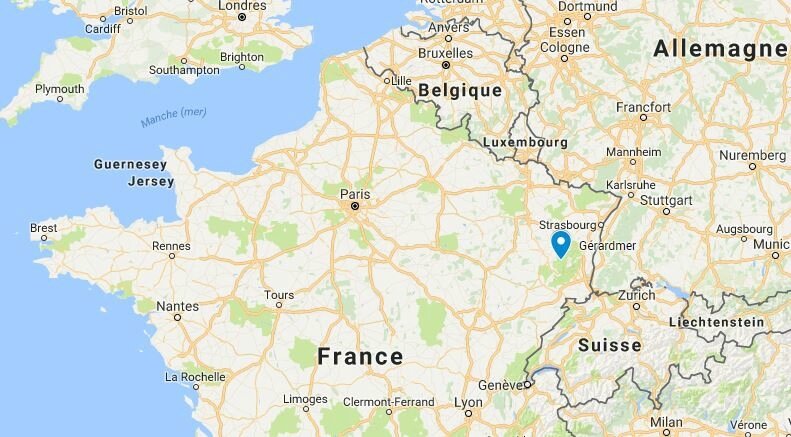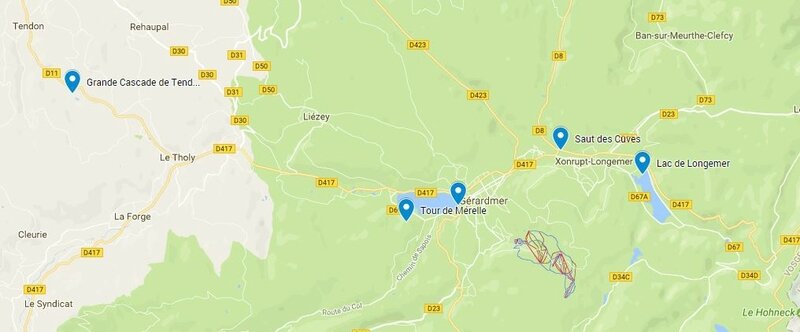 En venant de Nancy on passe d'abord par Tendon et ses cascades. Les trois premières photos ont été prises à la grande cascade de Tendon.
Coming from Nancy you first drive past Tendon and its waterfalls. The three first pictures were taken at the Great Tendon Waterfall.
J'ai réglé une exposition plus longue pour les deux photos suivantes pour donner cet aspect particulier à l'eau.
I set a longer exposure time for the two pictures below to give this particular texture to the water.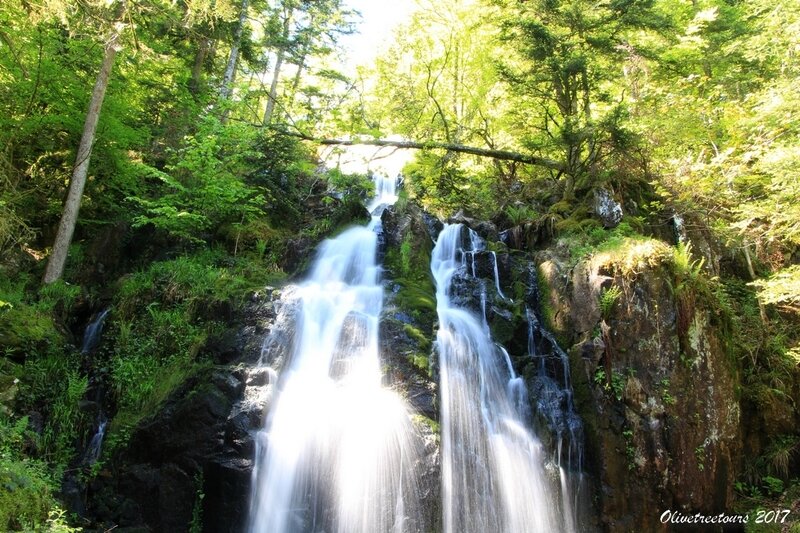 Des sentiers permettent de monter en haut de la cascade et de la traverser sur une passerelle. Par les sentiers il est possible de rejoindre la petite cascade (où je ne suis pas allé) et de faire une boucle avec retour au départ.
Paths allow you to climb over the top of the waterfall and to cross it on a bridge. You can also reach the Little Tendon Waterfall (which I didn't) and do a loop to return to your start point.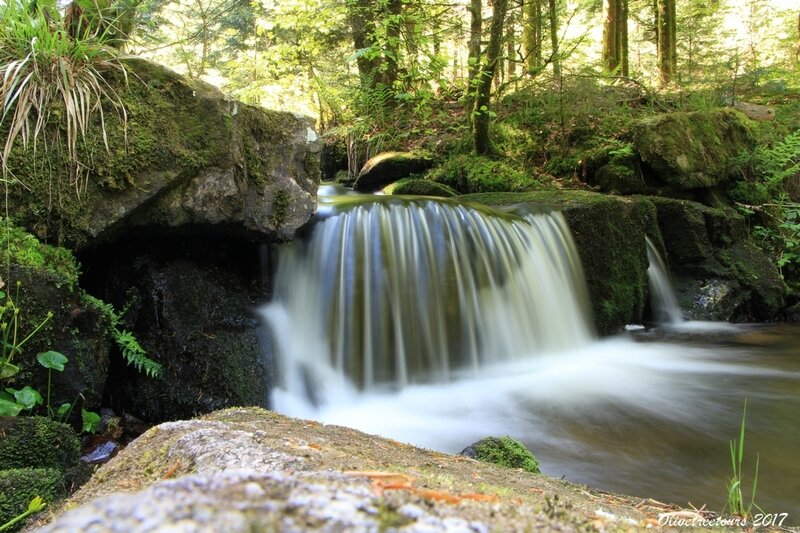 Changement de décor, nous arrivons à la Tête de Mérelle, une colline juste à côté du Lac de Gérardmer, au sud ouest. Attention la pente est raide, mais rassurez-vous, vous pouvez y monter en voiture et vous garer aux hameau des Rochottes, et même plus haut si vous n'aimez vraiment pas la marche ! Ci-dessous la forêt vosgienne qui borde le chemin vers la Tête de Mérelle.
Change of scenery, we arrive at the Tete de Merelle (literally the Head of Merelle), a hill south-west from the Lake of Gerardmer. Beware the slope, but you can go there by car and park near the hamlet of Les Rochottes, and even higher if you really hate walking ! Below is the forest along the path to the Tete de Merelle.
Une fois là haut, à 897 mètres d'altitude, une récompense vous attend, mais pour l'obtenir, il faut encore escalader les 15 mètres de l'observatoire de Mérelle. Si vous suivez mes publications vous savez que je souffre du vertige. J'ai pris sur moi, et j'ai surtout pris mon temps, mais je l'ai fait !!! Mains moites et jambes tremblantes j'ai gravi le petit escalier en colimaçon guère plus large que moi et qui m'a paru interminable ! La tour a été construite dans les années 60 par les Scouts.
Once there, 897 metres high, a reward is waiting for you, but to get it you have to reach the top of the 15 metres high Merelle observatory. If you follow my publications regularly you know that I suffer from fear of height. I needed all my courage, and a lot of time, but I did it !!! Sweaty hands and trembling legs, I climbed the hardly-wider-than-me and seemingly-endless stairs !!! The tower was built in the 1960's by the scouts.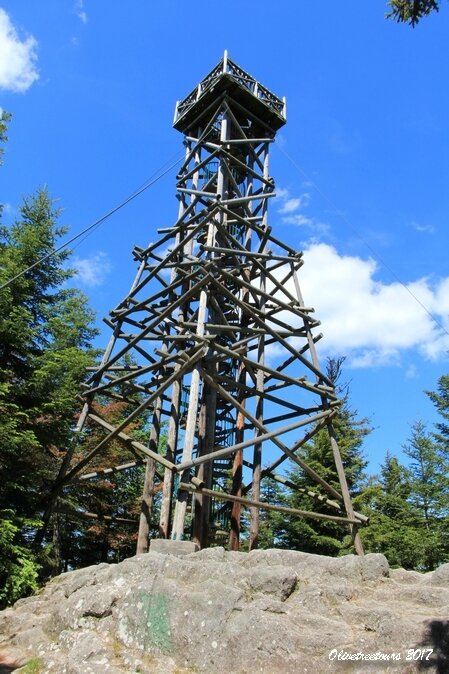 Ca valait le coup de se faire peur !!! Sur la plateforme la vue est juste magnifique sur Gérardmer et son lac ainsi que sur la forêt vosgienne !
But it was worthwhile to scare myself !!! On the deck the sight is just amazing on Gerardmer and its lake, as well as on the forest of the Vosges !!!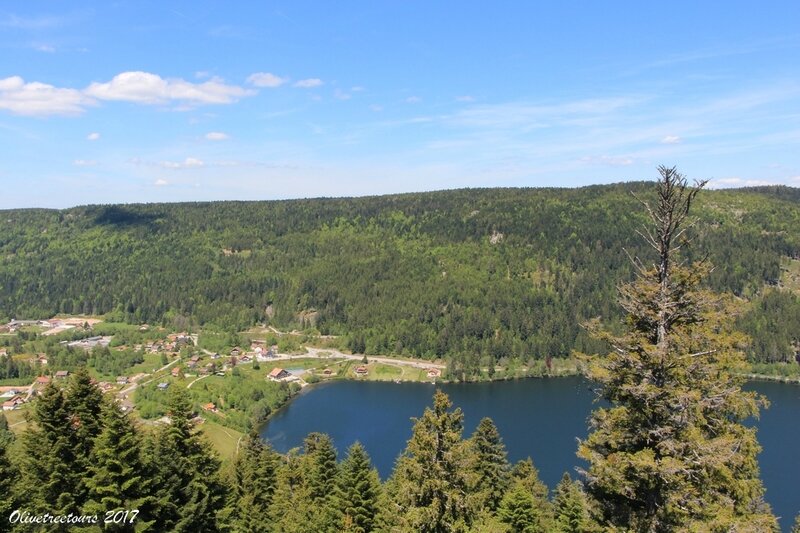 Je suis redescendu aussi lentement que je suis monté !
Sur la Tête de Mérelle d'autres chemins sont intéressants à parcourir et si vous suivez la direction de la cascade de Mérelle, vous passerez devant ce petit étang...
I went down as slowly as I climbed !
On the Tete de Merelle other paths are worth walking, and if you follow the signs for the Merelle Waterfall, you'll pass along this little pond...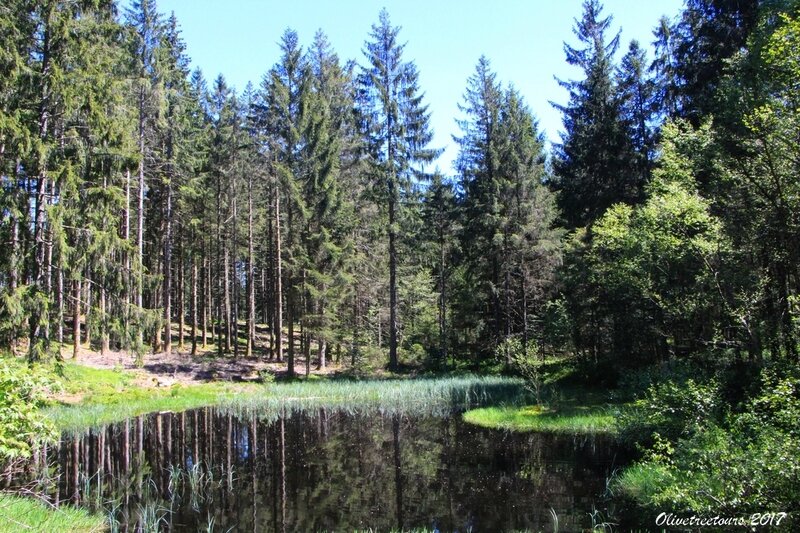 ...Cette tourbière...
...This peat bog...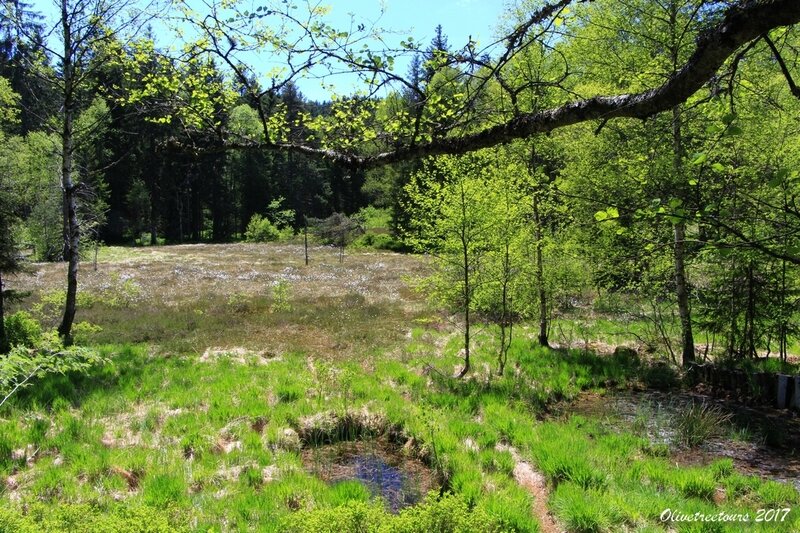 ...Cette ferme vosgienne typique. La cascade n'étant plus très vivace après le printemps sec, pas de photos (une dans l'album) !
...This typical Vosges farm. The Waterfall being almost dry after a very dry spring, hence no picture (one in the album).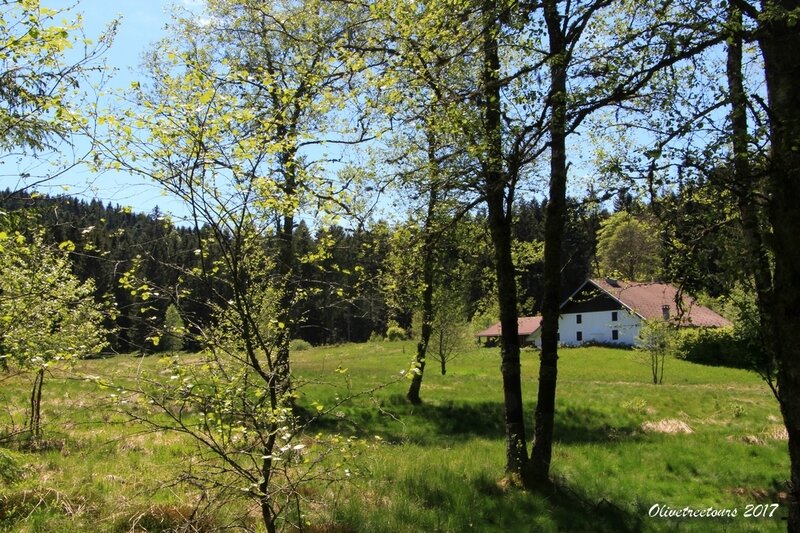 Descendons de notre montagne, longeons le lac au sud et dirigeons-nous un peu au nord-est au Saut des Cuves (photos suivantes). C'est le nom donné à cette chute d'eau sur la Vologne.
Let's come down from the mountain, go along the lake by its southern side, and head north-east to the Saut des Cuves, literally the jump of the tanks (following pictures). It's the name given to this waterfall on the river Vologne.
Un colvert sur la Vologne.
A mallard on the river Vologne.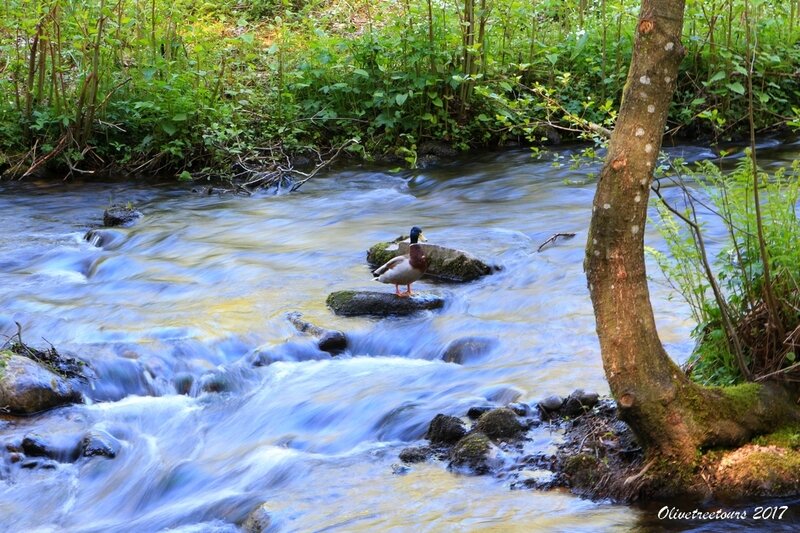 Cap à l'est et le Lac de Longemer (cette fois il faut prononcer Longe Mère).
Let's head towards the east and the Lake of Longemer.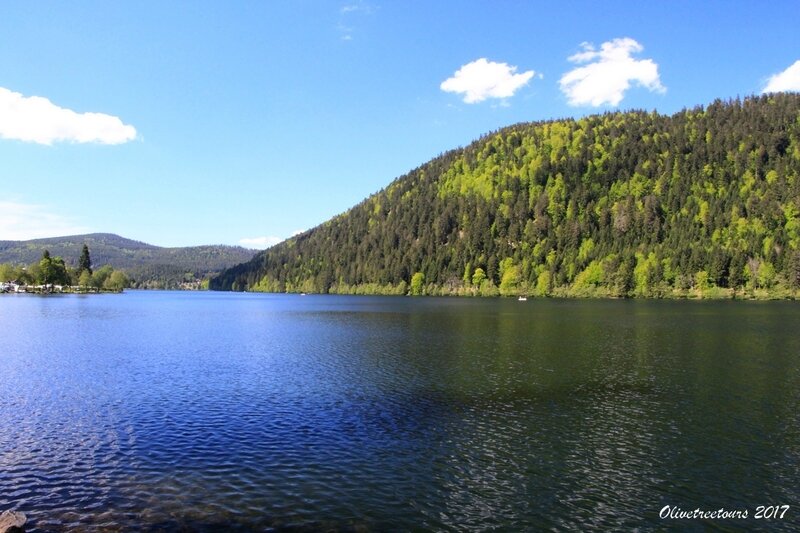 Par ce temps la balade est très agréable. Il faut compter environ une heure pour faire le tour du lac à pied (en prenant des photos et en admirant le paysage). Sur la partie sud-ouest du lac un chemin permet de longer le lac au calme, par contre à l'opposé une longue partie de la balade se fait sur le bas côté de la route, donc prudence.
The walk is really enjoyable by this weather. It'll take around one hour to walk around the lake (with pictures and landscape watch breaks). On the south-west side of the lake a path allows to walk along safe, whereas you'll have to walk on the roadside on the opposite side, so caution.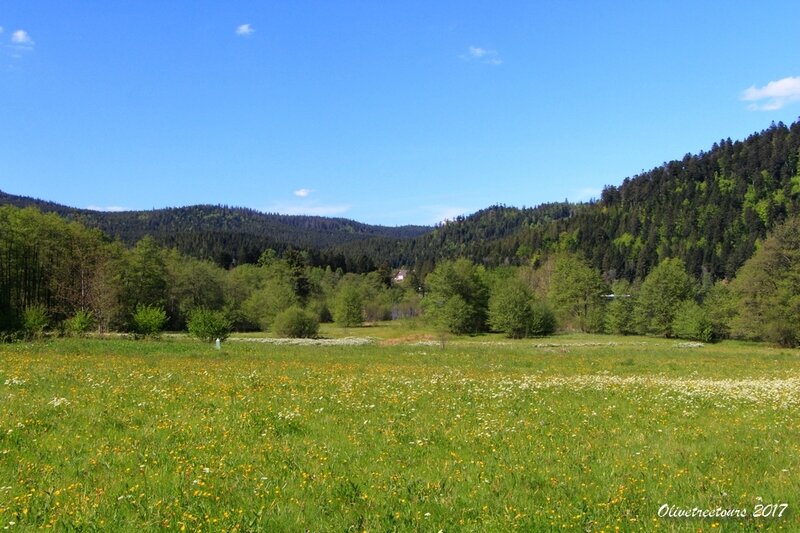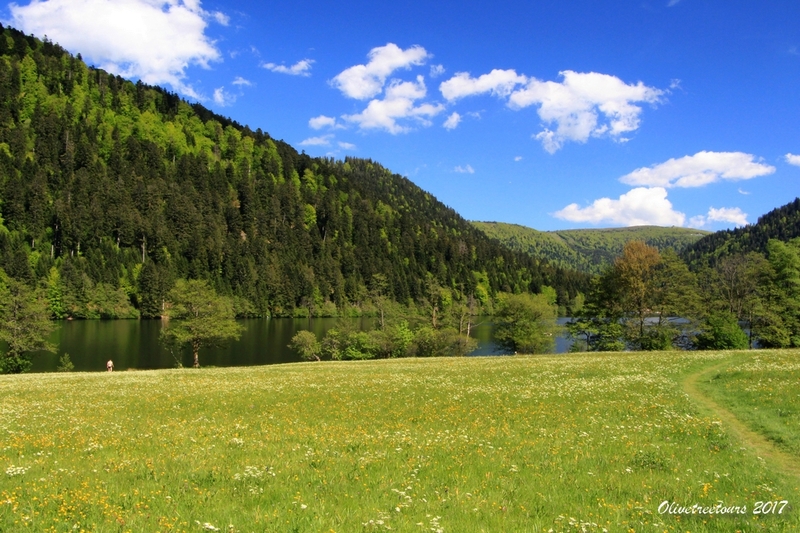 Le paysage typique vosgien : le Lac de Longemer et les montagnes avec leurs résineux et quelques feuillus pour la petite touche de vert plus clair.
The typical Vosges landscape : The lake of Longemer and the mountains with their coniferous trees and a few deciduous trees for the little touch of clear green.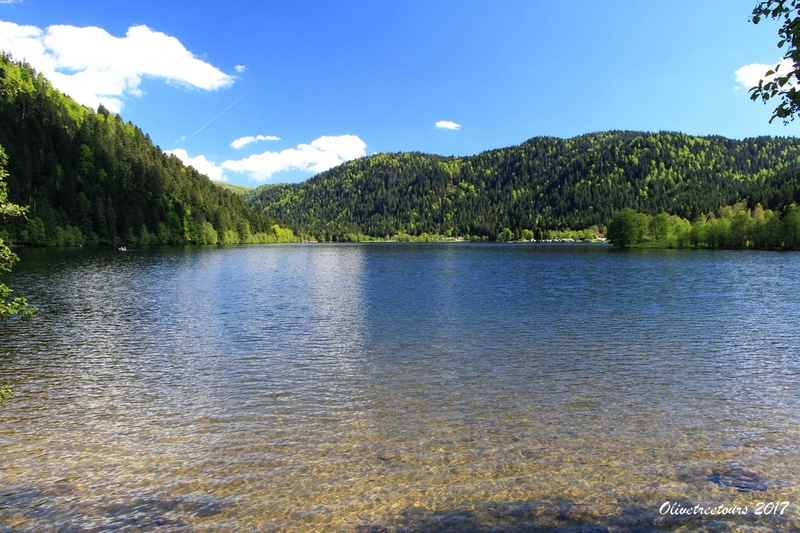 Changeons de lac et revenons à l'ouest, au Lac de Gérardmer.
Back to the west and another lake, the Lake of Gerardmer.
Le Lac de Gérardmer est moins sauvage que celui de Longemer, du fait que la ville de Gérardmer soit située directement au bord du lac.
The Lake of Gerardmer is less wild than the Lake of Longemer, due to the fact that the city of Gerardmer is situated directly on the lake shore.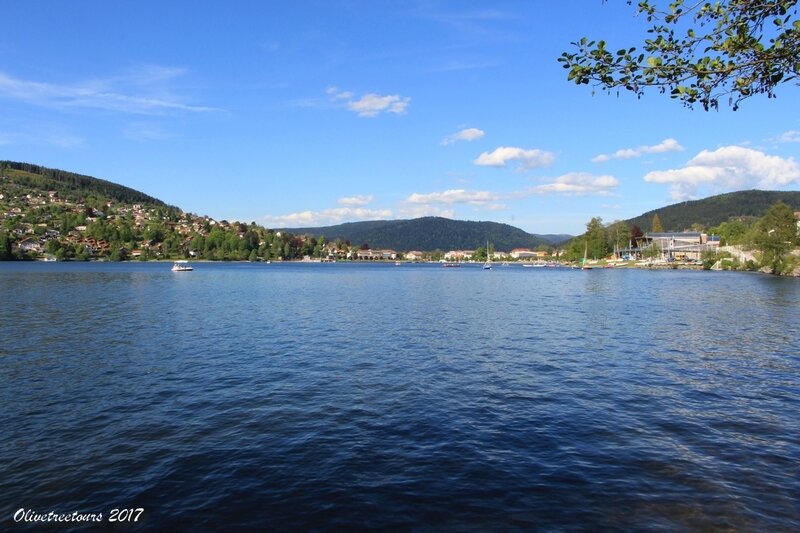 Ci-dessous la Villa Monplaisir, des années 1860, au bord du lac.
Below, the Villa Monplaisir, from the 1860's, by the lake.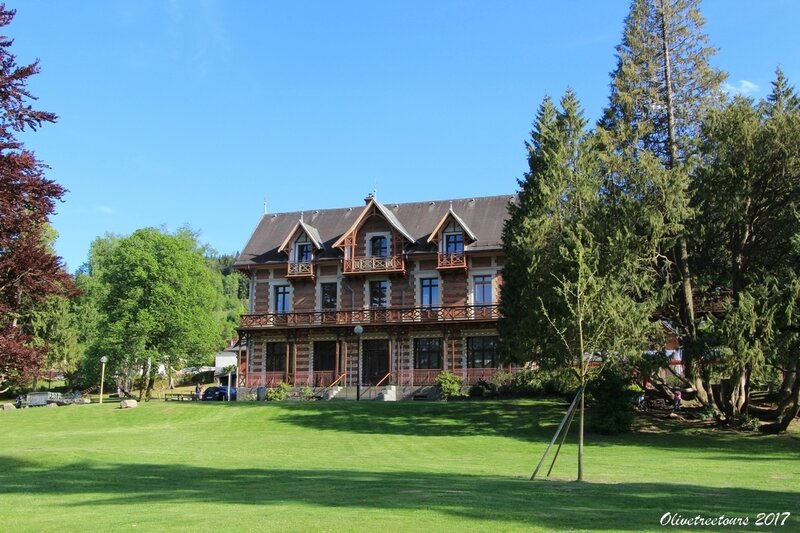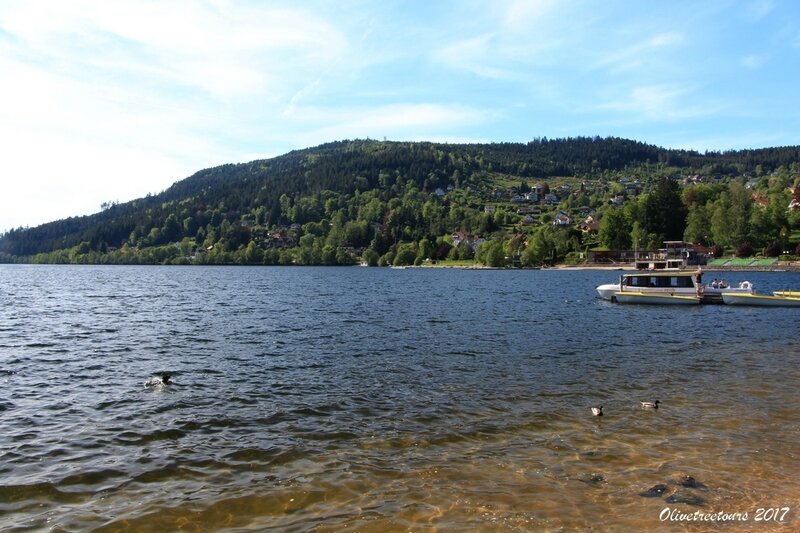 C'est déjà la fin de ma journée vosgienne.
It's already the end of my day trip in the Vosges mountains.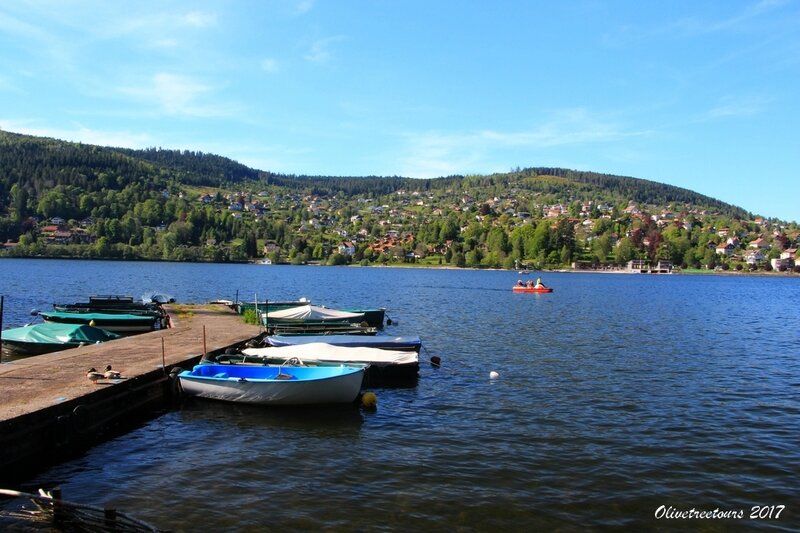 Une bien belle journée de printemps, avec des accents estivaux.
Comme d'hab, je rajoute quelques photos dans l'album !
A beautiful spring day, almost a summer day.
As usual, I add some pictures in the album !