Le 1er mai tombant un lundi en cette année 2017, j'ai posé mon vendredi et je suis parti sur quatre jours dire bonjour à mon frère du côté de Niort, en Nouvelle Aquitaine, anciennement Poitou-Charentes, à 700km de Nancy. L'occasion de visiter le secteur et de pousser vers l'océan !
The 1st of may falling on a monday in 2017, I took my friday off and went for a four days trip to greet my brother near Niort, in Region Nouvelle Aquitaine, formerly Poitou-Charentes, 700km (435mls) from Nancy. It was the opportunity to tour in this area and to go further towards the ocean !
Dear english readers, if you want an explanation of the title of this article, just read it entirely !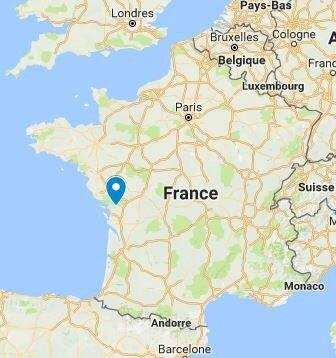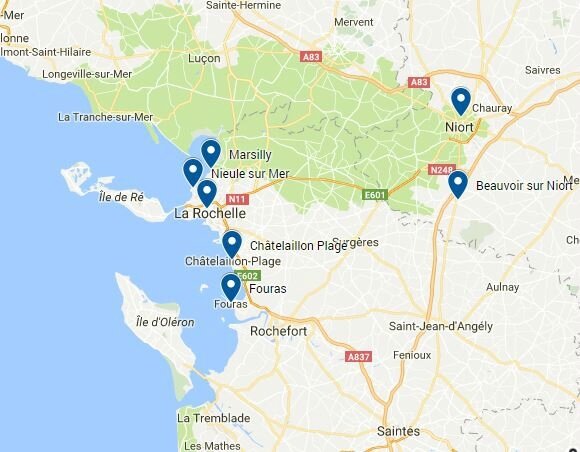 Dans les terres / In the land
Beauvoir-sur-Niort
Premier arrêt au Moulin de Rimbault dans le village de Beauvoir-sur-Niort. L'existence de ce moulin en pierres de 15 mètres de haut est attestée dès 1482 et il est utilisé jusqu'en 1923. Restauré par une association dans les années 1970, il a été acquis par la commune de Beauvoir-sur-Niort en 2004.
First stop at the Moulin de Rimbault (the Rimbault's Mill) in the village of Beauvoir-sur-Niort. This 15 metres high stone windmill was first mentionned in 1482 and was used until 1923. An association restored it in the 1970's and it was purchased by the commune of Beauvoir-sur-Niort in 2004.
Niort
Prenons la route pour la ville de Niort, avec ci-dessous son donjon situé au bord de la Sèvre Niortaise, construit par les Plantagenêt entre 1160 et 1175. Il a subit diverses modifications et destructions au fil des siècles pour donner l'ensemble visible actuellement.
Let's head to the city of Niort, with its dungeon by the river Sèvre Niortaise in the picture below, built by the Plantagenêts (the English royal family at this time) between 1160 and 1175. It underwent several modifications and destructions along the centuries before looking that way today.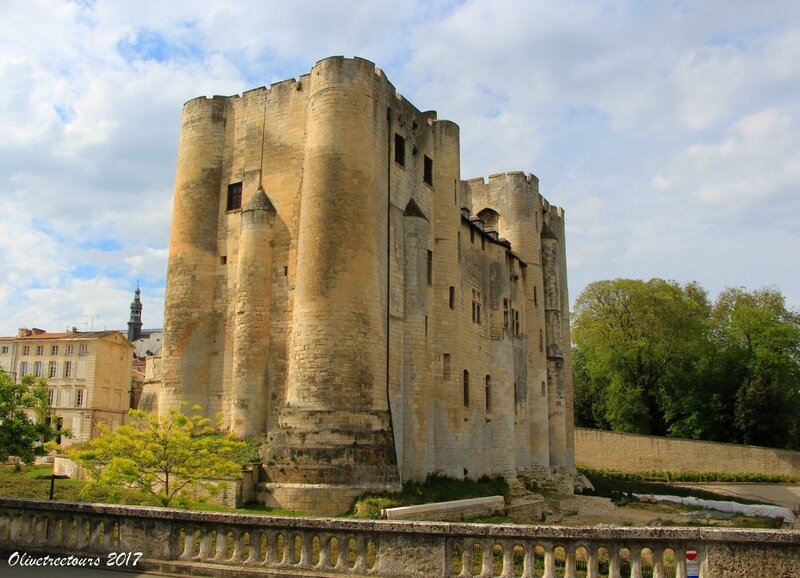 La partie centrale a été couverte d'une toiture et aménagée en logements au XVème siècle.
The central part received a roof and was converted into accomodations in the 15th century.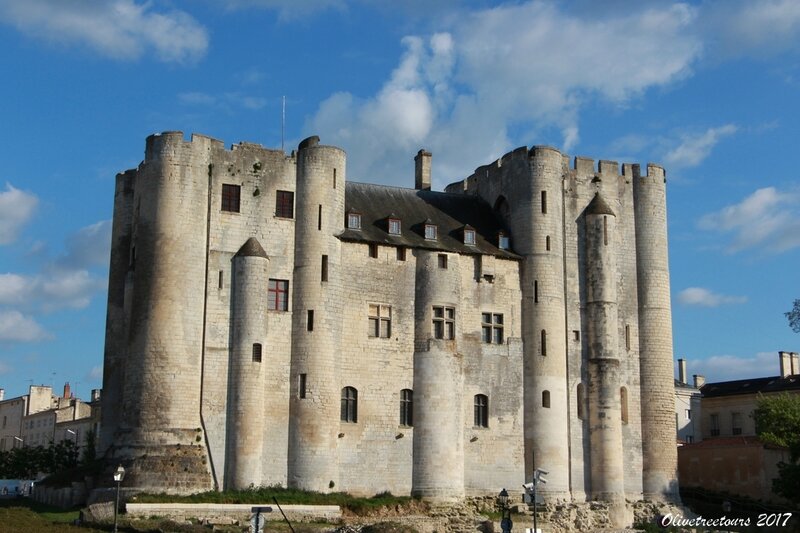 Ci-dessous l'Église Saint-André qui date du XIXème siècle.
Below, the Saint-André church, dating from the 19th century.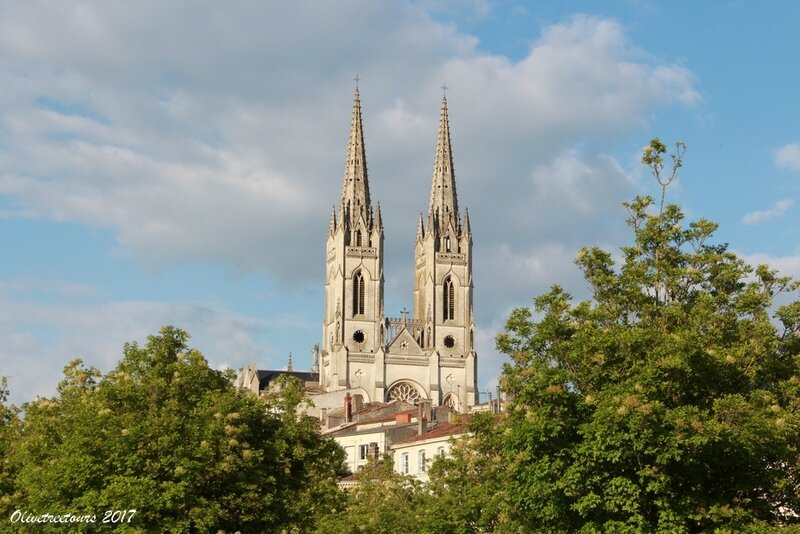 La photo suivante montre les Halles de Niort, de la fin du XIXème siècle, qui abritent le marché couvert. La photo a été prise le dimanche, jour de marché.
The next picture shows the late 19th century's Halles de Niort (Halls of Niort) that house the indoor market. The picture was taken on a sunday, market day.
Puis l'Hôtel de ville, construit à la toute fin du XIXème siècle.
Then the City Hall, built at the very end of the 19th century.
En vieille ville subsitent encore des maisons à encorbellement du Moyen-Age, comme le montrent les deux photo suivantes.
In the historic city centre still remain corbelled houses from the Middle Ages, as shown in the two following pictures.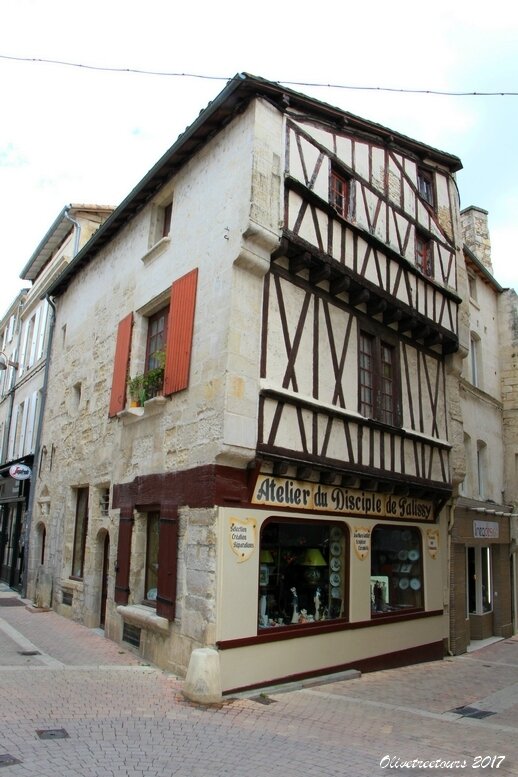 Sur la côte / On the coast
Ce samedi 29 avril il a fait vraiment beau, et nous sommes partis passer la journée sur la côte, La Rochelle n'étant qu'à 45 minutes de voiture du pays niortais.
On this saturday april 29, the weather was really lovely and we went for a day on the coast, La Rochelle being only 45 minutes by car from the Niort area.
Fouras
A marée basse, nous arrivons à Fouras, jolie station en forme de pointe d'où l'on peut voir l'Ile D'oléron.
At low tide we arrive in Fouras, a nice sea resort in a tip shape, from which you can see the Oleron Island.
Une belle journée à Fouras !
A beautiful day in Fouras !
Prends la clé !!! Sors, sors !!! Ci-dessous, le fameux Fort Boyard, et l'Ile d'Oléron derrière.
In the picture below is Fort Boyard, soaking in the see, a very famous fort because an adventure TV program takes place there every summer since 1990. Behind it you can see the Oleron Island.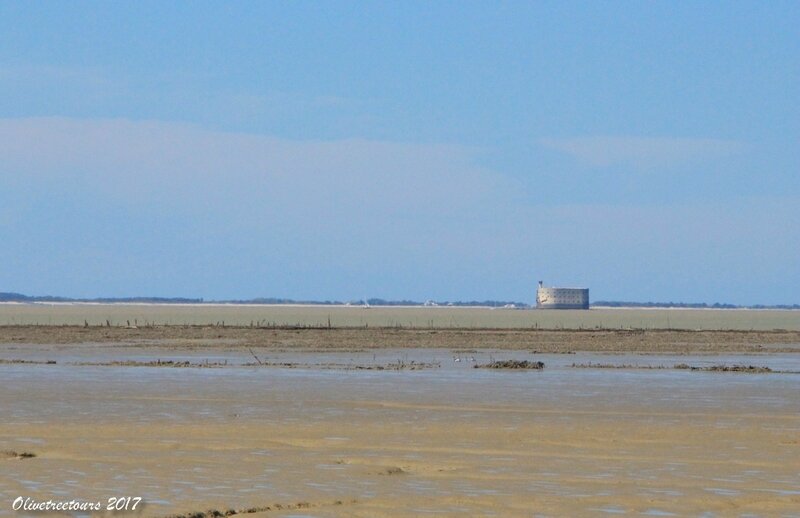 Toujours à Fouras, voici le Fort Vauban dont le donjon a été construit au XVème siècle, donc bien avant la naissance même de Vauban. Celui-ci l'a fait réparer et fortifier deux siècles plus tard. Le donjon a également servi de sémaphore.
Still in Fouras, here's Fort Vauban whose dungeon was built in the 15th century, so way before Vauban's birth. The latter had it rebuilt and fortified two centuries later. The dungeon was also used as a semaphore.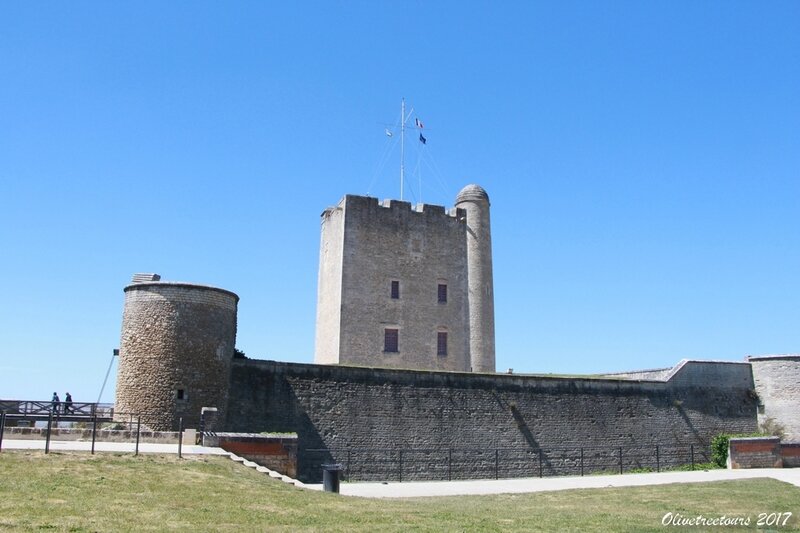 Châtelaillon Plage
Nous remontons une peu vers le nord et arrivons à Châtelaillon Plage. Ci-dessous, en face, l'Ile d'Aix. La marée est en train de monter.
We're going further north to Châtelaillon Plage. Below, facing us is the Aix Island. The tide is coming in.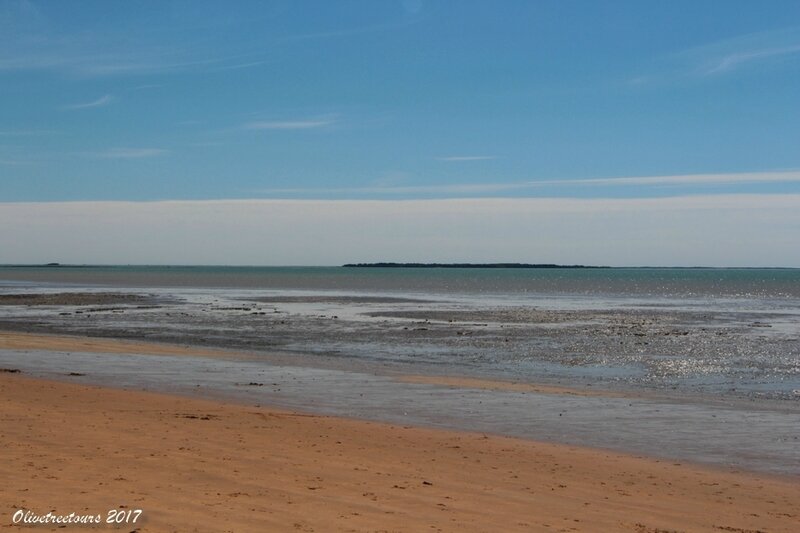 Le Front de mer de Châtelaillon (que les habitants semblent aussi appeler Châtel).
The seafront of Châtelaillon (that the dwellers also seem to call Châtel).
La Rochelle
Encore un peu plus au nord, c'est La Rochelle, avec à gauche de la photo la Tour de la Lanterne, et la Tour Saint-Nicolas (avec le drapeau bleu blanc rouge) à l'entrée du port.
Still a little bit further north is La Rochelle with the Tour de la Lanterne (the Lantern Tower) on the left of the picture, and the Tour Saint Nicolas (with the french flag), standing at the entrance of the old port.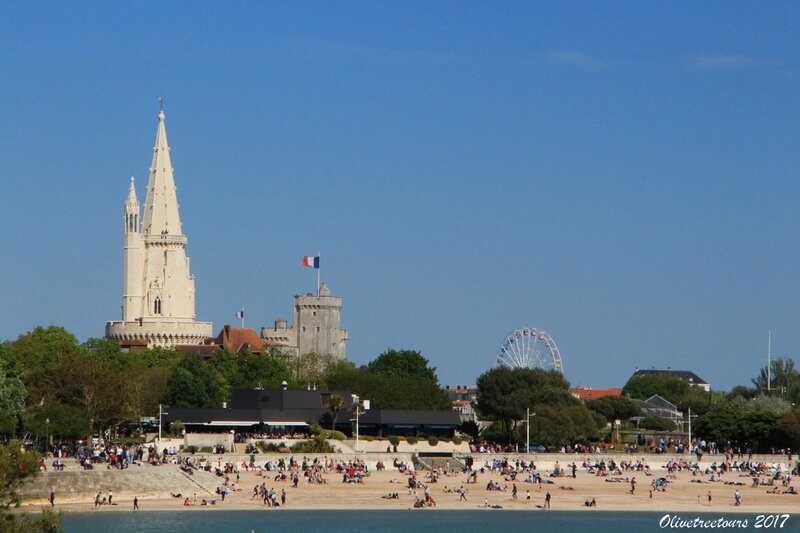 La Tour de la Lanterne est l'ancien phare de La Rochelle et a été construite au XVème siècle.
The Tour de la Lanterne used to be a lighthouse in the Middle Ages. It was built in the 15th century.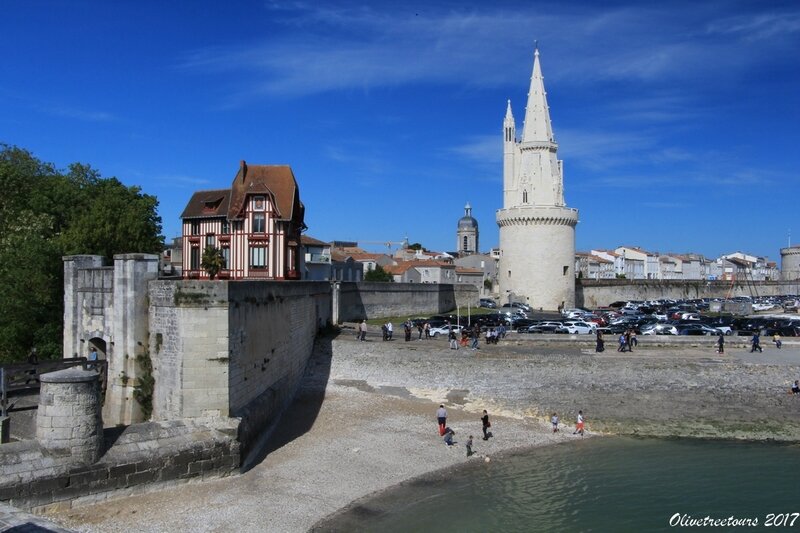 Vue sur le Vieux-Port de la Rochelle.
Below, a view on the Old Port of La Rochelle.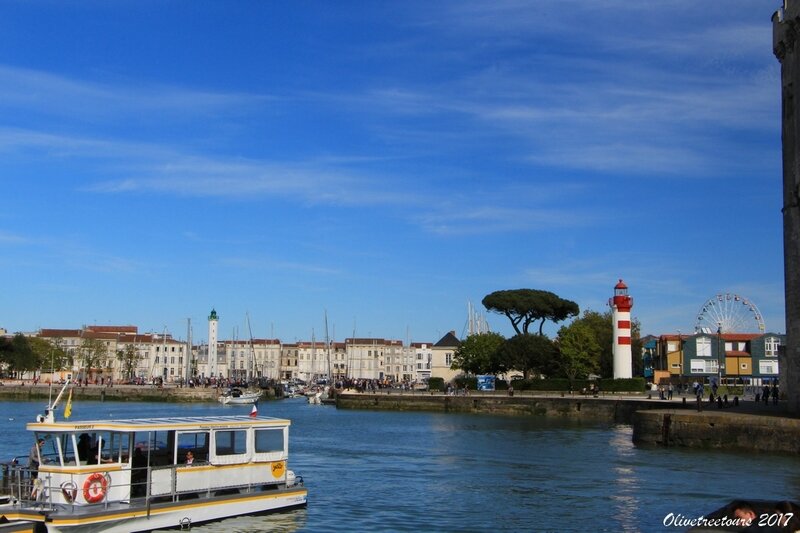 Ci-dessous à gauche, la Tour Saint-Nicolas, et à droite, la Tour de la Chaîne, toutes deux érigées dans le seconde moitié du XIVème siècle. Elles constituent la porte du Vieux-Port et servaient à défendre l'accès à la ville par l'océan.
In the next picture, on the left is the Tour Saint-Nicolas and on the right is the Tour de la Chaîne (the Chain Tower), both erected in the latter half of the 14th century. they form the Old Port's gate and used to defend the access to the city from the ocean.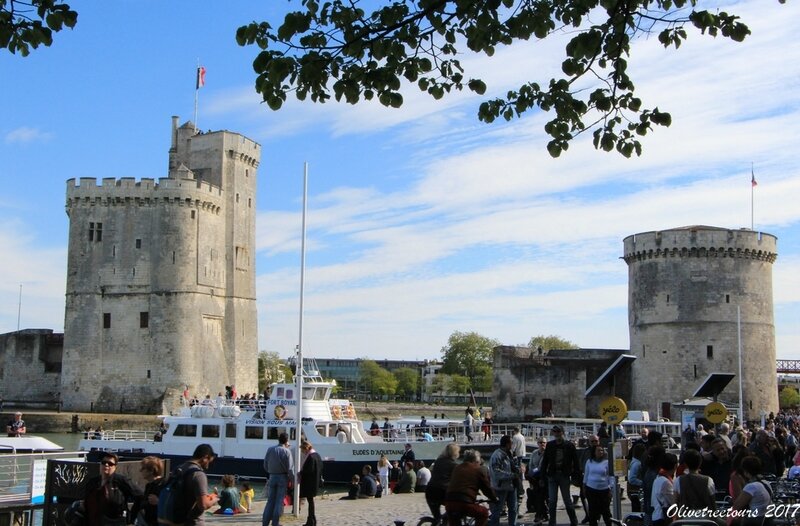 Toujours près du Vieux-Port, la Tour de l'Horloge, dont la construction a commencé au début du XIIème siècle.
Still near the Old Port, the Tour de l'Horloge (the Clock Tower), whose construction began in the 12th century.
Ci-dessous une vue sur les trois tours du front de mer de la Rochelle.
Below, a view on the three towers of La Rochelle's seafront.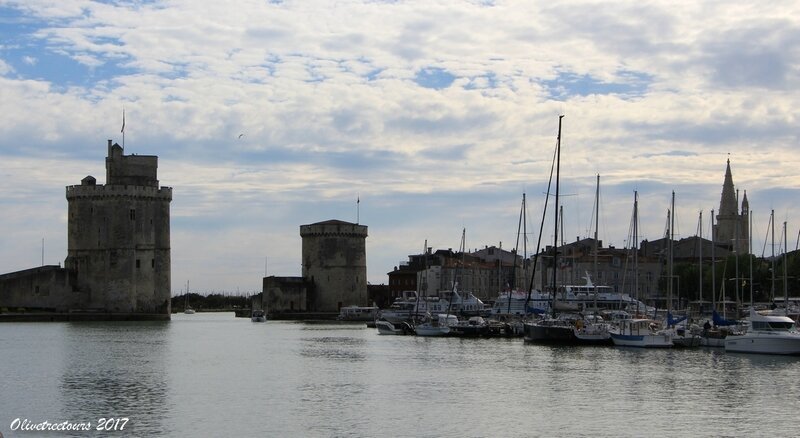 En fin de journée le ciel s'est couvert, et le dimanche s'est montré moins clément !
At the end of the day, the sky covered, and sunday was not as nice as saturday !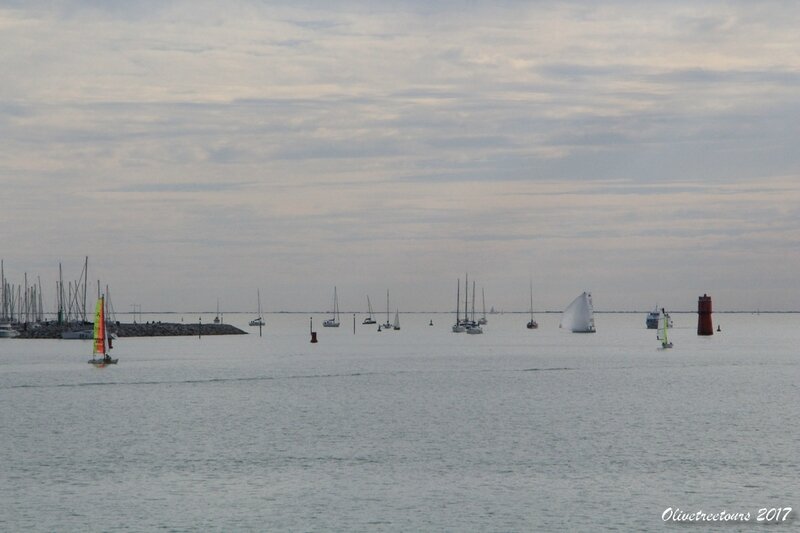 La côte sauvage / The wild coast
Le dimanche, comme prévu, le temps était nettement moins ensoleillé que le samedi et il a beaucoup plu sur Niort. Qu'à cela ne tienne nous sommes quand même retournés sur la côte mais cette fois au nord de La Rochelle, au Pertuis Breton.
As expected sunday was less sunny than saturday, and it rained a lot over Niort. No problem, we went back to the coast anyway, but this time north from La Rochelle, to the Pertuis Breton.
Le Pertuis Breton
C'est le détroit entre l'Ile de Ré et le continent. La photo suivante montre d'ailleurs le pont de l'Ile de Ré. Nous sommes ici près de Nieule-sur-Mer et de L'Houmeau.
It's the strait between the Ile de Ré (Ré Island) and the continent. The following picture shows the Ile de Ré bridge. We are near Nieule-sur-Mer and L'Houmeau.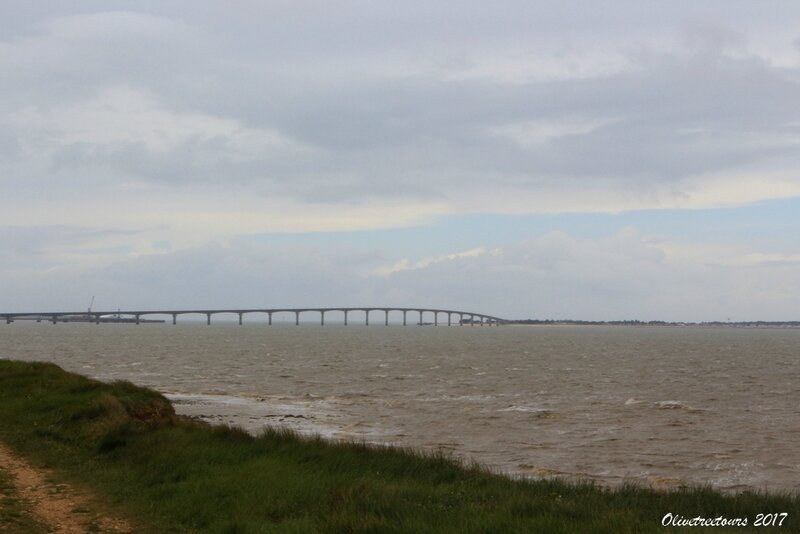 Le sentier littoral est très praticable, même par temps de pluie. Au fond à gauche de la photo suivante ce sont les côtes vendéennes de la Baie de L'aiguillon que l'on voit.
The coastal path is very passable, even with rain. In the background, on the left of the picture below you can see the coast of Vendée, by the Baie de l'Aiguillon.
Le défilé des goélands.
A seagulls parade.
Nous sommes maintenant à proximité du village de Marsilly, au nord de Nieule-sur-Mer. Ici on pratique la pêche au filet, depuis les cabanes appelées Carrelets.
Now we are close to the village of Marsilly, north from Nieule-sur-Mer. This is an area where fishermen cast their nets from cabins called Carrelets.
Sur suggestion de mon frère (merci à lui) j'ai pris quelques clichés en noir et blanc. Le paysage s'y prête particulièrement, d'autant que la couleur de l'océan n'est pas très engageante et c'est une façon de la cacher !
Upon suggestion of my brother (thanks to him !) I took some black and white pictures. This landscape fits very well this kind of picture, especially since the ocean's color is not really attractive and that's a way to hide it !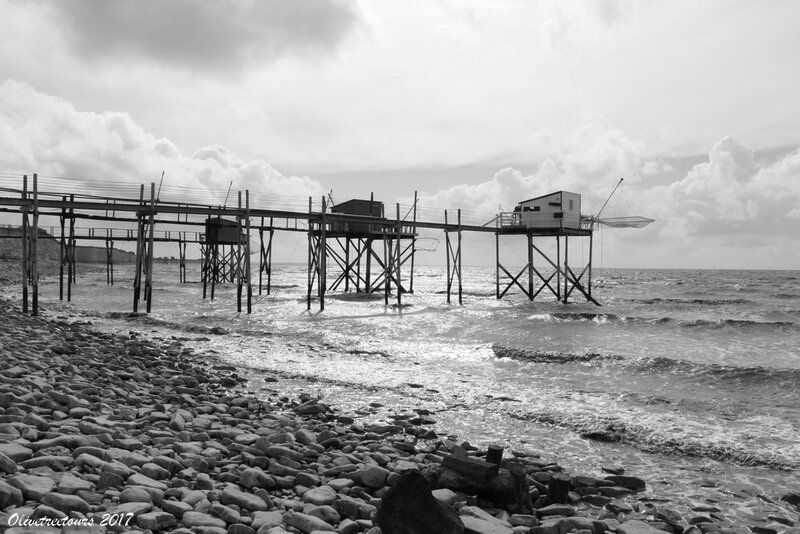 Ci-dessous, en face de nous flotte l'Ile de Ré.
Below, before us, floats the Ré Island.
Encore quelques carrelets.
Some more carrelets.
Vous trouverez la photo ci-dessous en noir et blanc dans l'album.
You'll find the picture below in black and white in the album.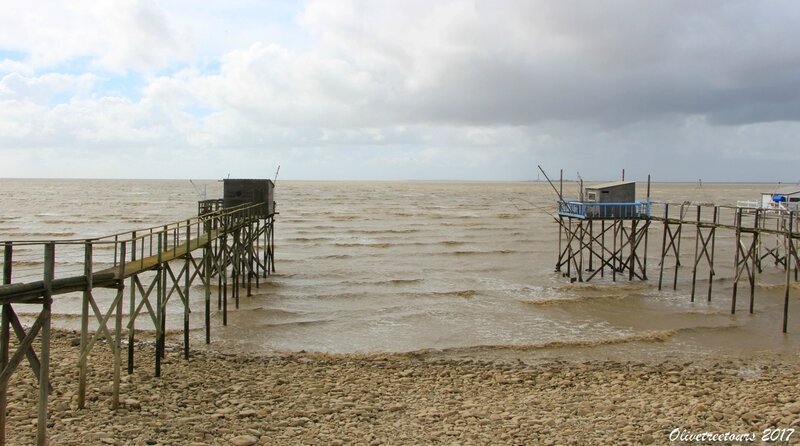 Et vous y trouverez la suivante en couleur.
And you find the following one there as well, in colour.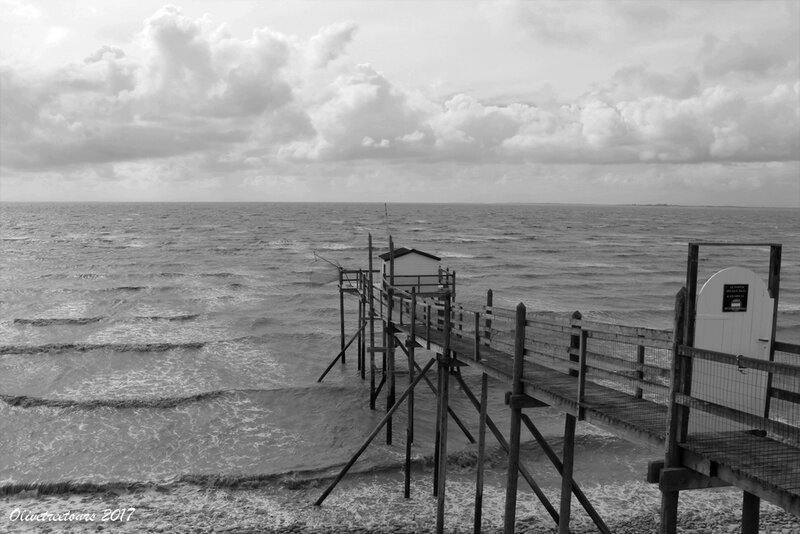 Un grand merci à mon grand frère pour m'avoir conduit partout et avoir joué à l'assistant photographe ! Un super week-end, à refaire pour explorer d'autres endroits !
A big thank you to my brother for having driven me everywhere and having played the photographer assistant ! A super week-end to be done again in order to explore other places !
Vous souhaitez voir plus de photos ? Cliquez sur l'album !
Wanna see some more pics ? Click on the album !
P.S. for the english speakers : Here's the explanation of my title : "Charentaises" is the name of renowned comfortable slippers made in Charentes, the region of this trip. You can google it and you'll feel like trying them !